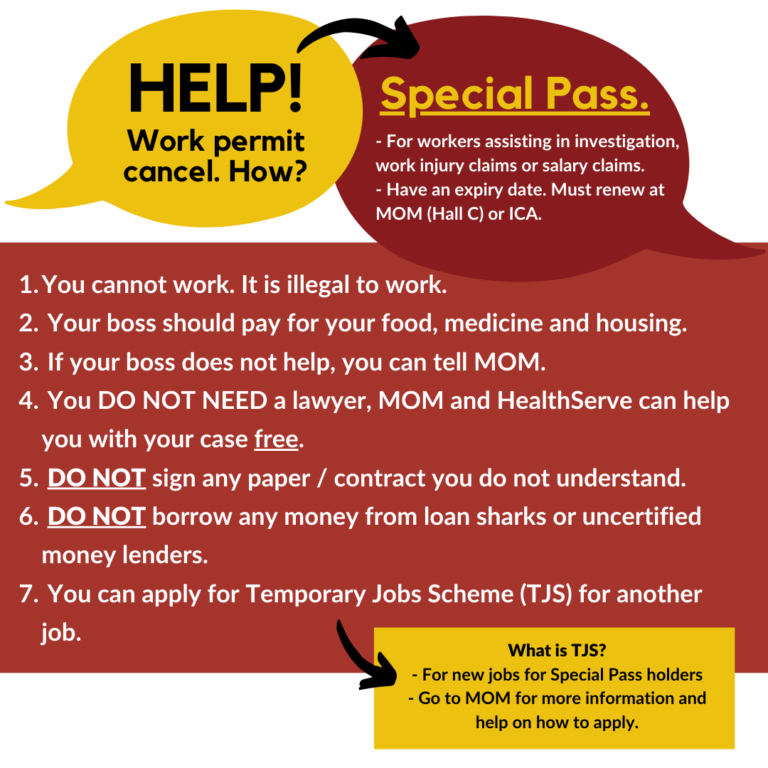 How to check if my Work Permit valid?
You can download the mobile app "SGWorkPass" to check the validity of your work permit.
Cannot work now, then when can I work?
Use the "SGWorkPass" app to check if you may go out to work. Ensure that you have downloaded the "TraceTogether" app before you resume work.
Work Permit Expired. How?
If your work permit expires between 6 May 2020 to 5 June 2020, it will be automatically extended until 1 July 2020. You can check the new expiry date using the 'SGWorkPass" app.
Employer cancel Work Permit. How?
Your employer will need to make arrangements to send you home before cancelling your work permit. You can only go home using the air ticket purchased by your employer.
Employer cancel my Work Permit, no buy air ticket for me. How?
Your employer will need to extend your special pass to allow you to stay longer in Singapore until an air ticket is purchased for you to return home. Your employer is needs to take care of you until they send you home. 
If I go back to my country, can I come back to SIngapore?
Yes, you can come back and work in Singapore, if you can find an employer and as long as you do not have adverse records.
Employer cancelled my Work Permit, no pay salary. How?
You should discuss with your employer if you have queries about your salary. Your employer must also return any outstanding salary payments to you before you leave Singapore. If you are not able to settle the issue with your employer, please lodge a salary claim with the Tripartite Alliance for Dispute Management (TADM). You may also approach your dormitory operator or the FAST officers at your dormitory for assistance. The officers will help you.
If you are able to find a new employer during this period, your new employer can get in touch with MOM.
Only workers who are in the blocks for recovered workers (BRWs) and whose employers are allowed to start work will be allowed to go to work. You must return to your dormitory immediately after work. The remaining workers will continue to remain in your dormitory.

The last day of circuit breaker will be on 1 June 2020. From 2 June 2020, only a small proportion of your employers will be allowed to re-open as the COVID-19 situation is still stabilising. Hence, only a small proportion of you will be able to return to work. 
If you can go to work, you will be required to return immediately to the dormitory after work, stay in your rooms and minimise interactions with other residents. This is important to ensure that the residents in these BRWs or cleared dorm remain free from COVID-19.
For the rest, you will continued to be well taken care of, receive your meals as well as medical support. You will also be tested for COVID-19 and if you are healthy, you will be able to join other healthy workers at the BRWs or cleared dorm. Likewise, you can return to work if your workplace reopens.